A couple of weeks ago, I watched a review on YouTube for the Hubsan X4 Quadcopter with 720P video camera. I couldn't believe that aerial video was possible with such a small and inexpensive aircraft. A trip to Amazon, and one was on the way to me. It arrived in the typical 2 days, but I'm been waiting for a calm day to fly.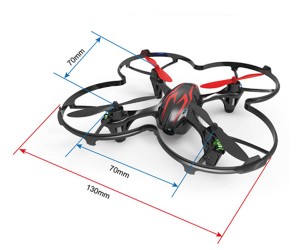 These craft are so small and lightweight that they don't do well in the wind. I'd already lost a similar size craft the weekend before when I flew it too high and wasn't able to keep it from drifting away. Maybe I'll find that one out in the woods one day.
Sunday provided the chance to try it out. We had a couple of friends out for dinner, and the breeze calmed enough towards sunset for a test flight. I'm still inexperienced with R/C craft, so the video is a little rough, but it wasn't too hard to get it up in the air and keep it nearby.