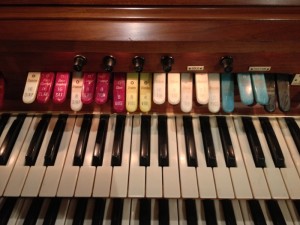 When I was 9 or 10 years old, we went to the "Three Coins in the Fountain" restaurant located at the time in Louisville, Colorado.  I don't remember many restaurant outings from my youth, but this one was different — the restaurant had a theatre pipe organ.  The inner workings were set up behind glass, and the restaurant owner (as I remember it) would play the instrument for the diners.  As a youngster just learning to play the piano, this was fascinating.  One could see all the pipes, but there were also drums and other percussion like xylophones, marimbas, glockenspiel, bells, guitars and strings, and even a piano.  Best of all you could see everything moving as the organist performed.  It made an indelible impression on me.
At the time, pipe organs were common in churches, but the sound of that theatre organ, with extra sounds that gave it an orchestral majesty, was new to me.  Even so, I understood that it was a rare treat, and not a practical pursuit.  Over time, the experience receded into my memory.
A few months ago, I was reminded of the theatre organ experience in the most unlikely of ways.  As a long-time radio amateur, I had become aware of the podcast "Hamnation" and its host, Bob Heil.  Bob owns a well-known audio equipment company, Heil Sound and is also famous in the pop music world for inventing equipment to produce some of the 70's most iconic sounds, including Peter Frampton's Heil Talk Box. On one of the Hamnation episodes I also learned that Bob was a theatre organ hobbyist. This got me to thinking about my own experience as a child.  Bob had a theatre organ in his home, maybe I could have one in mine.
After doing a little research on the Internet, it became clear that a commercially made theatre organ, even an electronic one, was out of the question.  Way beyond reach financially for any instrument that would interest me.  Not surprising.  Then, when I had all but give-up on the idea, the search engine pointed to the Virtual Theatre Pipe Organ (VTPO) community.  With both open source and commercial software and organ samples, here was a strategy for owning a theatre organ that was well within reach.  The old itch could be scratched.
And so I begin what promises to be a very interesting journey into the world of virtual pipe organs (yes, sacred pipe organs are also popular in the community).  Over the last holiday season, I purchased Milan Audio's Hauptwerk virtual organ software, and the Paramount 320 theatre organ sample set.  Using two keyboards in my MIDI-based studio, I have been able to very quickly produce some really impressive and realistic organ sounds.  With no pedals however, an important part of the organ experience is missing.  I needed a console.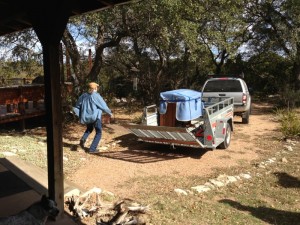 Back to the Internet.  MIDI-based consoles (manuals, stops, pistons, and pedals) are certainly available — but at a cost of several kilo bucks for  a complete set.  Could an old organ console be pressed into service at a lower cost?  A few days of browsing on eBay and Craig's List produced some candidates, the most promising one being a 1963 Thomas Transistor organ with two full-size manuals and a two-octave pedal set.  At $100, I didn't have much to lose.
It will take some effort to bend this early solid-state organ to my purposes, but in the meanwhile, I will have an inexpensive organ on which to begin learning how to play.  I've played the piano for years, but have very little experience with organ technique — especially the pedals.  I expect this to be a long effort, but for the chance to recapture the wonder I experienced as a child upon hearing this magnificent instrument — one that will be well worth it.